Homeschool plan for year 7
Many parents are daunted all over again when it comes to teaching high school at home. If you've come this far, don't give up now – you've obviously been donig a good job.  If you are wondering how to tackle high school it's helpful to think about where your child wants to be in 4-6 years' time. Look at the end goal and work back from there. You will likely change and tweak your plan as you go.
It is not uncommon for homeschooled children to be working at year 12 level by age 16 and thus a 4-6 year plan is best. Motivated children will make the most of their time, and if they can get a good handle on essay writing and are reading often and widely by age 16, you have a lot more choices open to you for the next two years. Check our planning guides for higher grades. The thing to do at this level is to make a plan.
Video classes are a great resource for high school. Compass Classroom makes video curriculum that's fun for kids, smart for parents, and easy for everyone. You'll find history, literature, Latin, economics, music, science and more. Have a look at a few classes we selected for year 7 below. You can usually get a free trial so you can check out the classes before you commit to membership.
English and History
Language Lessons from Australian History Book 3 is aimed at children aged 11-13 who still need a little grammar instruction. Advanced grammar and essay writing are taught and more advanced readers are assigned (as optional reading).
Your child will be expected to progress from oral to written narrations and will be taught, and expected to present, an oral presentation.
Other Charlotte Mason aspects such as picture study, copywork and artist study are continued. Australian History is taught using living books, of which Our Australian Story is the main text.
English Editing
Maths
Our Singapore maths for high school is think! Mathematics Book 1 for Year 7. This is the 8th edition of accelerated program, New Syllabus Mathematics 7th Edition. It is an accelerated series which takes the student up to Singapore O Level, which is the Australian Year 11. Your child will be prepared for this course no matter which Singapore primary maths program they have used. think! Mathematics advances more quickly than Australian high school maths programs. However, there is no pressure to complete a whole book every year and you can slow down to the pace that suits your child.
The Teacher Resource Books give full worked solutions and teacher's notes.
History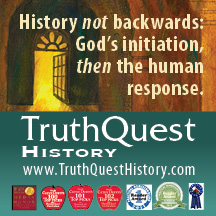 Truthquest is geared towards grades 5-8 and is more a "thinking" program than a "writing" program. Its premise is that God is the author of all that happens; he is the centre of history, not man. If you want a history program that teaches worldview this is an excellent program.
You will learn about the ideas of history from all the enjoyable books you read rather than having a textbook tell you about them. Read our review of Truthquest here.
English
LLATL
If your child has done LLATL Tan or LLAH Book 3 they will be able to go on to Learning Language Arts Through Literature Green, a broad course covering all aspects of English using good literature. Otherwise, we recommend a placement test to see which level your child needs. You will need LLATL Green Student Book, Teacher Book ebook versions and the three novels.
Progeny Press literature study guides
If you want to study a book in depth, Progeny Press study guides are a good choice. They are a higher academic standard for literature study than LLATL, but they do not include other aspects of English instruction like LLATL does. Progeny Pres has many guides to choose from (we only show a couple on our site for this grade level).
Grammar
If you'd prefer a Charlotte Mason style grammar program and your child doesn't need a formal program, Grammar Through Copywork is an easy, fuss-free way to brush up on grammar concepts. It uses copywork of classic literature to teach grammar concepts. There is also the opportunity to improve spelling and written expression by providing excellent models, so it's always a win-win. This book provides lessons for beginners right through to advanced grammar.
Copywork
Copywork from Classic Literature is designed to encourage your child to read more slowly and learn by example from the great classic writers.  Copywork of these passages will help improve grammar, punctuation and vocabulary as well as encourage the development of a more formal writing style so necessary for essay writing in higher grades. Aimed at 13 years +.
Science
Science in the Atomic Age follows on from any of the books in the Berean Builders Elementary series.
It begins with teaching students about atoms, molecules, the chemicals that are necessary for life, DNA and cells. These topics are all discussed in the context of history, explaining how specific scientific advances led to the scientific explanations that the students are being taught. This allows students to learn not only the current scientific understanding of these topics, but also how scientists reached that understanding.
To see what this course covers, read the product information.
Throughout the course, God's design in nature is highlighted, and topics in the creation/evolution debate are discussed. Experiments and other hands-on activities are done throughout the course.
Compass Classroom Video Classes