Homeschool planning for year 8
Here are our homeschool resource suggestions for a well-rounded year 8. This is a time when your teens are gaining physical strength, so encourage more sports or get them working outside as much as possible, especially boys. Got wood that needs chopping or stacking? Need some dirt moved? Drop the books and let your young teen show you what they can do.
Studying history, culture and logic are all good for this age, giving your kids an avenue to not only state their opinions, but tools to support their arguments. Have fun with your teens, empower them and encourage them to develop confidence.
English
If your child has done LLATL Green then they can go on to Learning Language Arts Through Literature Gray. If they have just done Language Lessons from Australian History Book 3, you can do either LLATL Green or Gray.
LLATL Gray includes vocabulary building exercises that bring meaning to words in context making it useful in everyday language. Also included is a five week Writing Unit designed to prepare students for upper high school writing and research as well as continued study in prefixes, suffixes and roots words.
Four book studies are designed to expand your child's understanding through various activities involving reading and writing skills. Both the Teacher and Student books are needed for this program.
Grammar
English Editing book 2 is suitable for year 8 and provides comprehensive coverage of common grammatical errors through passages based on current topics in society. If your child needs a brush up or conclusion to grammar concepts, this book is an inexpensive way to provide rigorous practice and is useful for getting your student up to speed with grammar expectations for this level.
It includes a "Guide to Editing a Passage" which provides a thorough analysis of grammar and useful tips for spotting errors.
By this age your child should have enough grammar, however, some students benefit from a light review. If you want to get away from a formal grammar program and would like an easy, fuss-free way to brush up on grammar concepts, our ebook Grammar Through Copywork is a Charlotte Mason inspired curriculum using classic literature to teach grammar concepts. With this method, there is also the opportunity to improve spelling and written expression by providing excellent models, so it's always a win-win. This book will provide lessons from beginners right through to advanced grammar.
More copywork for this age can be done from Copywork from Classic Literature.
Literature

High school is when you should spend more time with a book and Progeny Press provides excellent study guides. They are a higher academic standard than LLATL and go more in depth. The guides cover sections such as:
About the Author; Background Information; Vocabulary words used throughout the novel; Literary Techniques (characterization, fruits of the Spirit, contrast, word picture, context, dictionary, foreshadow, flashback, synonyms, irony, foil, simile, overview); Moral Lessons and Character Values; Activities and Writing Assignments; Suggestions for Further Reading.

Copywork
Copywork from Classic Literature is ideal for this grade level. It is a compilation of passages from well known, good quality classic literature.
Copywork trains your child in the skill of reading slowly, teaching them to take careful note of what is being said in the passages. It's a good vehicle for developing vocabulary and improving grammar, punctuation and writing ability through well written models.
Maths
The Singapore maths program for high school we recommend is New Syllabus Maths 7th Edition (an accelerated program) which covers years 7-11 in just four books. New Syllabus Secondary Maths Book 2 covers year 8. See the product description for concepts covered and check out how it compares to the Australian Curriculum.
Science

Berean Builders Discovering Design with Earth Science is the course designed for year 8, though students who have been to school may be more comfortable with this course in year 9. There is also a lab kit to go with it. It covers the general properties of the earth's geosphere, hydrosphere and atmosphere. There are roughly 55 hours of laboratory instruction in the course. Experiments include mineral tests, rock analyses, fossil studies, density investigations and magnetic property explorations.
The textbook and teacher guide with answers are sold together.
History
If you like a living books approach to history and need some structure to make it work, Beautiful Feet history guides are a good choice. The BF Guide to Ancient History for intermediate grades (5-8) is suitable for year 8 if you haven't done any ancient history since early grades. It uses literature about ancient cultures and hands-on activities to teach history from a Christian perspective. Beautiful Feet also publishes a Medieval Intermediate Teacher Guide.
You will need to buy readers to go with this curriculum, but you may have some of them already on your shelves.
As well as the literature and hands-on activities, there are vocabulary lists, comprehension questions, research topics and web links to make this both an academically strong study and one that will encourage stimulating discussions.
Truthquest is our favourite history program for high school aged children. At an age when kids are reading faster than you and just want to binge read to finish the book, Truthquest forces them to take it slowly and lets them think. We loved the ideas we identified and the discussions we had.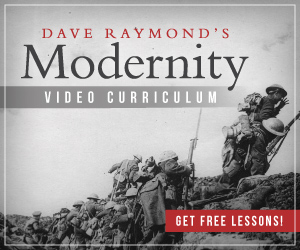 If your child has done history right up to the Reformation, Modernity is next.